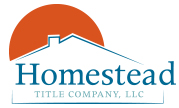 Relax, we've got you closed.
---
Sales Orders
We only require the fields that are highlighted, however for accuracy, please complete as many fields as possible.
Please send all the offer documents to home@homesteadtitle.net to complete your order.
You will receive an email confirmation when the order has been received and processed.